NEW FEATURES AND IMPROVEMENTS
We have been busy adding many new features and enhancements to Web Text Analyzer so we thought we had better let you know in case you have missed some of them. So, in no particular order, here we go –
There are now two tools for analyzing your content. The original one analyzes a webpage URL which is called "Web Page Analyzer Tool" and now we have added a second one that analyzes text called "Text Analyzer Tool". Yes, we know, they're not very sexy names but they say what each tool does!
The Text Analyzer lets you enter or type in, the text you are going to add to a webpage along with your Keyword phrase and reports back how that keyword phrase is setup in your text. You can also add your Meta Title, Meta Description and H1 tag to check. You can continue to change the text or type in more and re-analyze until you are satisfied with the result then copy and paste directly into your web sites CMS system.
Export to Excel – a new feature in the Web Page Analyzer tool. This exports all of the results for an analyzed page to an Excel Spreadsheet. Storing these allows you to go back and compare current scans to previous ones to see if pages have changed and why. Very useful if you have a number of people working on a site making changes.
Scan secured webpages. Web sites or web pages that have been secured with a user name and password, perhaps for development, can now be scanned with the tool by entering the Username and Password.

Tag highlighter. You can now highlight the main Tags in the page code under the HTML Tags Consistency Check by simply clicking on the "Show" button alongside the tag. This will highlight the tag with the colour of the button in the HTML code box below –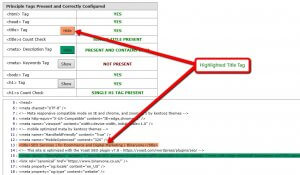 This makes it very quick and easy to find and check the relevant tag is correctly setup on the page.
Image Alt Text highlights the Keyword. It is important to have your keyword somewhere in the images Alt text on the webpage. This is now highlighted, if found against any image on the page.
Percentage weighting of each word. Along with the number of occurences and position we have now included the percentage weighting for each word. This is useful to make sure a particular word or phrase is not over emphasied and looking 'spammy' which could get you penalised.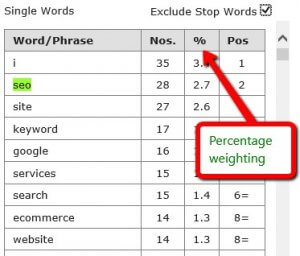 Watch out for many more new features and enhancements coming over the next weeks and months.
If you have any suggestions for features then get in touch and let us have them so we can put them on our 'wish list'.
Related Post "Latest Updates and Features – July 2018"